---
Rays From The Rose Cross Magazine
Mystic Light
The New Name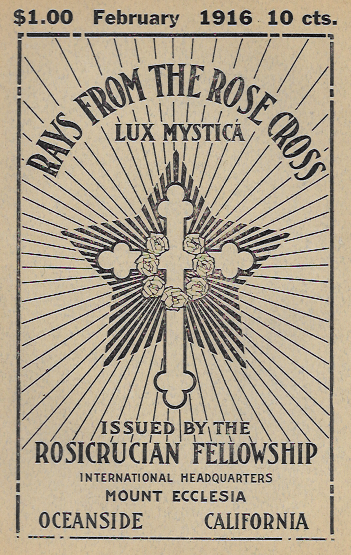 Man struggling up to the sunlight,
Up from the mire and clay,
Fighting through wars and jungles,
And sometimes learning to pray—
And sometimes a king with a scepter, And sometimes a slave with a hod;
Some people call it Karma,
And others call it God.

A beggar ragged and hungry,
A prince in purple and gold,
A palace gilded and garnished,
A cottage humble and old—
One's hopes are blighted in blooming, One gathers the ripened pod—
Some call it Fate or Destiny,
And others call it God.

Glimmering waters and breakers,
Far on the horizon's rim,
White sails and sea-gulls glinting Away till the sight grows dim,
And shells, spirit-painted with glory, Where seaweeds beckon and nod—
Some people call it Ocean,
And others call it God.

Cathedrals and domes uplifting,
Spires pointing up to the sun,
Images, altars and arches,
Where kneeling and penance are done—
From organs grand anthems are swelling, Where the true and faithful plod—
Some call it Superstition,
While others call it God.
Visions of beauty and splendor,
Forms of a long-lost race,
Sounds of faces and voices,
From the fourth dimension of space—
And on through the universe boundless, Our thoughts go lightning shod—
Some call it Imagination,
And others call it God.
Acids and alkalies acting,
Proceeding and acting again, Operating, transmuting, fomenting,
In throes and spasms of pain—
Uniting, reacting, creating,
Like souls "passing under the rod"—Some people call it Chemistry,
And others call it God.
Vibration of Etheric Substance, Causing light through regions of space, A girdle of Something, enfolding,
And binding together the race—
And words without wires transmitted, Ariel-winged, spirit-sandaled and shod—
Some call it Electricity,
And others call it God.
Earth redeemed and made glorious, Lighted by Heaven within,
Men and angels face to face,
With never a thought of sin—
Lion and lamb together,
In flowers that sweeten the sod—
Some of us call it Brotherhood,
And others call it God.
And now the sixth sense is opened,
And we have rent the veil,
And we no longer wander,
We have ransomed the "Holy Grail." Through all of life's phases and changes, Along all new paths to be trod,
We will recognize only one power—
One present, Omnipotent God.
— Dr. George W. Carey
— Rays from the Rose Cross Magazine, September/October, 1995
---
---

Contemporary Mystic Christianity






This web page has been edited and/or excerpted from reference material, has been modified from it's original version, and is in conformance with the web host's Members Terms & Conditions. This website is offered to the public by students of The Rosicrucian Teachings, and has no official affiliation with any organization.

| Mobile Version |