---
Rays From The Rose Cross Magazine
Volume 87 — No. 5
September/October 1995
---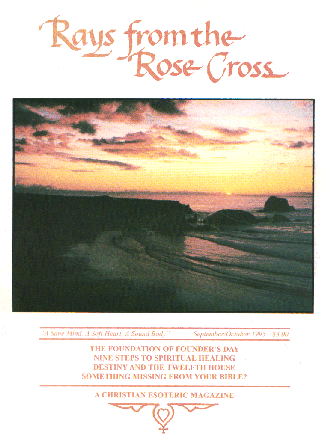 ---
In This Issue...

Feature:
Life Is What You Make It
Editorial:
Obedience
Mystic Light:
The Foundation of Founders' Day, by C. W.
Nine Steps to Spiritual Healing, by Frieda Mader
The New Name, by Dr. George W. Carey
Conquering Self, by O. R.
You Inherited Yourself, by Ernest Crutcher, M.D.
How I Found the Rosicrucian Teachings

Studies in the Cosmo-Conception
Readers' Questions:
Condition of Animals After Death
Western Wisdom Bible Study:
The Seventh Commandment
Astrology:
Introduction to Spiritual Astrology—Part III, by Barbara Joiner
Destiny and the Twelfth House, by Edward Adams
Astrology and Modes of Communication, by Renate Shoemacher
The Year of the Paradigm Shift, Part I, by Jean de Galzain
Part II

News Perspectives:
Something Missing From Your Bible?, by A Probationer
Book Reviews:
Paying the Ultimate Price, by C. W. The Philokalia, by C. W.
Nutrition and Health:
Healing:
For Children:
The Boy Who Proved His Teachers Wrong, by A Probationer
Miscellaneous:
Psalm 84
Crossword Puzzle: Christ's Words from Luke 28 [printed version only]
September/October 1995 Ephemeris [printed version only]
---
---

Contemporary Mystic Christianity






This web page has been edited and/or excerpted from reference material, has been modified from it's original version, and is in conformance with the web host's Members Terms & Conditions. This website is offered to the public by students of The Rosicrucian Teachings, and has no official affiliation with any organization.

| Mobile Version |